Sunday Train: Is Big Oil Striking Back against the California Bullet Train vote?
Home
Published October 14, 2012 - 9:03pm
Burning the Midnight Oil for Living Energy Independence
cross-posted from Voices on the Square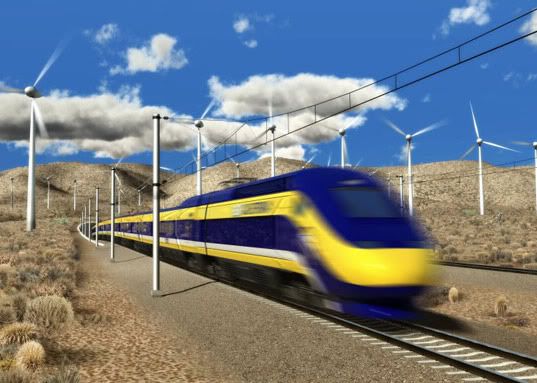 One of the biggest difficulties in the fight for sustainable energy independence is that Big Oil and Big Coal, the entrenched vested interests against our nation's long term economic survival, have ample resources and ample practice in playing the long game. They have, over decades, built up a network of propaganda mills (Heritage, Cato, Reason), pro-corporate legislative cookie cutter factories (ALEC) and have invested heavily in buying large number of legislatures at both the state and federal level.
So we should not expect victories to come without an effort to strike back coming from Big Oil or Big Coal. It appear that this effort may be underway in California, following Big Oil's big loss when the California State Legislature approved the California State funding to match the Federal Funding of the HSR Initial Construction Segment.
"Julia Brownley, Running Us Off the Tracks"
Here's an NRCC ad running against Julia Brownley:
Just what you'd expect: hitting Julia Brownley voted for "the biggest tax increase in California History", and "a $68b train that California can't afford". Of course, the fact is that the total California bond funding that can be authorized is $9.95b, and the "$68b train" that "Californians can't afford" is a cheaper way of providing the same increase in transport capacity as additional road or air operating subsidies combined with new road lane miles or new airport infrastructure.
This is from the NRCC, but it is an exact echo of oil-funded Cato/Reason/Heritage attacks.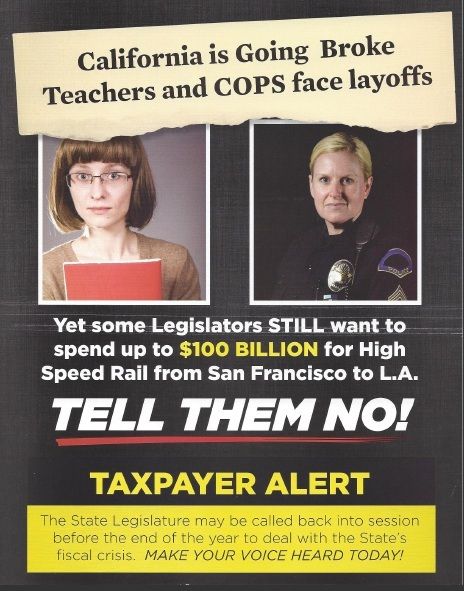 This is from a "Taxpayers Network" mailer. Elsewhere in the flyer it tells people to contact (State) Sen. Tony Strickland and thank him for opposing HSR, tells people that Julia Brownley supports the "up to $100b" HSR, and that (State) Sen. Fran Pavley has both opposed and supported the HSR project, and to contact her to help her make up her mind.
Who is the "Taxpayer Network"? The group's website doesn't say ~ it is one of these supposed public benefit corporations:

The Taxpayer Network is a non-profit public benefit corporation organized under Section 501c (4) of the Internal Revenue Code. Its goal is to educate the public about the policies and policy-makers involved in issues of taxation, spending and regulation of the economy. Taxpayer Network uses television, radio, direct mail and the internet to communicate its messages.
However in 2011, the Sacramento Bee was able to dig out a little bit about the group, which ran a "sleezy little ad" against Senator Boxer in the 2010 California Senate race:


Dan Morain: Shady ad brought to you by the Supreme Court

...

Who funds Taxpayer Network, and what motivates its donors? ...

You will never know -€" except that one of its directors is a high-powered Washington lobbyist who represents moneyed interests that have a financial stake in whether Democrats or Republicans control the U.S. Senate.

...

Taxpayer Network lists one director as David McIntosh, a former congressman from Indiana. McIntosh is a lobbyist at Mayer Brown in Washington, where he represents energy companies worried about climate legislation, health care clients, the U.S. Chamber of Commerce on financial services regulation, and more.
So near as we can tell, the "Taxpayer Network" ran a sleezy ad against Senator Boxer to punish her for her support of Carbon Pricing and other policies to avoid the threat that climate change may wreck our national economy.
And since they are a shadowy hidden money group, they can be even more misleading than the NRCC. They completely ignore the intervention by Governor Brown in the project. When the strategy pursued by (Republican) Judge Kopp of running exclusive track through urban areas of the Bay Area and LA Basin slated for the slower 125mph Regional HSR corridors pushed the project cost up to $100b, Governor Brown intervened and brought the CHSRA and local rail authorities together to commit to the sharing of the slower speed corridors between the California HSR system and regional rail systems.
It is, of course, no great surprise that Governor Brown was able to intervene. He was first promoting HSR in the state of California when France was building their first Express HSR corridor, and France has been very successful in focusing the Express HSR corridors in the terrain between large metropolitan areas, and using Express Intercity corridors shared with other trains to gain access to and egress from the large metropolitan areas.
And who is pushing this even more misleading description of the project? Thanks to the US Supreme Court, we don't know, but we do know that there are no degrees of separation between the "Taxpayer Network" and Big Oil ~ one of the "Taxpayer Network" directors is someone they pay to push their interests in Washington DC.

Who Is The California Senior Advocates League?
Then there is this from Professor Keith Smith, from the Political Science at the University of the Pacific blog:

Campaign Advertising Lies

... the California Senior Advocates League PAC (ID#1327236), which had released an ad in San Diego attacking Fran Pavley (D). Pavley is seeking reelection in State Senate District 27. ... The ad ... contains a bald-faced lie. It says that Sen. Pavley earns $261,000 in tax-free salary each year. This statement is wrong on so many levels its incredible. First, the annual salary for a State Senator is $90,526 not $261,000. Second, like everyone else's salary, hers is taxed by both the state and the federal governments.

Then I checked yesterday'€™s pile of mail. In it was a campaign flyer from the California Senior Advocates League PAC attacking the Democratic candidate in my local State Senate district, Cathleen Galgiani. It has the same basic lie in bold print in multiple places. The lie is a little different because Galgiani is a member of the Assembly, so it says she makes $180,000 a year in tax-free salary. It's a lie none the less.

...

So who is the California Senior Advocates League PAC? The name implies that it is a group looking out for the interests of seniors in California, right? Mr. Herdt tried to find out who they really were by calling their offices, but was rebuffed. Electiontrack.com shows all of the donors and amounts given to the League. The lion's share of its money this cycle ($563,500 of $616,630) comes from the California Now Independent Expenditure Committee. (The California State Republican Party was a big contributor in the past, which should give you a clue about the organization and why it is targeting Democrats.) What is the California Now Independent Expenditure Committee? Mr. Herdt did the leg work here: It's basically Chevron and Philip Morris by way of the California Chamber of Commerce.
So here you have money from Chevron and Phillip Morris, by way the California "Chamber of Commerce" ... attacking State Senator Pavley and State Assemblywoman Galgiani.
Now, they are not, in this ad, being attacked for HSR, but a quick look at Assemblymember Galgiani's legislative site reveals that she has been a staunch advocate for the California HSR system, while Fran Pavley is the author of the California Carbon Pricing Scheme, AB32.

So the Empire is Striking Back ... what do we do about it?
Ok, so seems to be on the attack against Big Oil is on the attack against Julia Brownley, running for CA-26, and Cathleen Galgiani, running for CA State Senate District 5, two staunch supporters of HSR. They are also on the attack against Fran Pavley, running for re-election in CA State Senate District , who despite voting against the California HSR system, carries the mortal political sin of authoring carbon pricing legislation that was signed into law.
So ... what should be done about it? I mean, I'm an economist, so on political strategy, I am in the same boat as many of the readers of the Sunday Train, as long time observer, with some strong views of my own ... but by no means any kind of expert in this kind of campaign politics.

Midnight Oil ~ The Power and the Passion
And now, Member for Kingsford Smith, Labor Minister for School Education, Early Childhood and Youth, former Labor Minister for Environment Protection, Heritage and the Arts, Peter Garrett: