Cornucopia Thursday
Home
Published May 24, 2012 - 7:29am
Now I've seen everything ........
DIRECT DESCENDANTS? - Nobel laureate economist Paul Krugman ......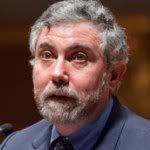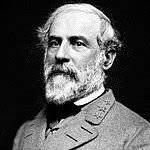 .... and General
Robert E. Lee
- leader of the Confederate Armies.
Help keep this crazy train rolling, by stopping in for a look at news items outside the headlines, in the arts and sciences; foreign news that generates little notice in the US media and ....well, just plain whimsy.....
ART NOTES - the largest-ever career retrospective of the pop artist Roy Lichtenstein - with 160 works, including never-before-seen paintings, drawings and sculpture - will be at the Art Institute of Chicago, Illinois to September 3rd.
STAGE NOTES - Downton Abbey star Dan Stevens makes his Broadway debut this autumn, as a suspected fortune hunter opposite The Help's Jessica Chastain.
TUESDAY's CHILD is Asia the Cat - a Utah kitteh who escaped the first time she got outside, but was located a month later.
TWO WEEKS AGO yours truly noted the quick start that the new Malawian president Joyce Banda made in firing the head of the police (blamed for the deaths of 20 peaceful protestors) and forming a government with members of all the main opposition parties. Well, she's raised the ante now: promising to abolish that country's anti-gay statutes - against the grain from other African nations.
WEDNESDAY's CHILD is named Brown Cat - a New Zealand kitteh who clung for dear life to the top of a car for over a mile, before another motorist told the driver of Brown Cat's presence.
BETTER LUCK NEXT TIME to the Swiss swimmer Ernst Bromeis: who had to abandon his attempt to be the first documented person to swim the 750-mile length of the Rhine River - from Toma Lake in Switzerland to the Netherlands port city of Hoek van Holland - 1/3 of the way through, due to icy conditions (which one wonders might have been solved by trying this in late summer).
ART NOTES - the sole East Coast presentation of the Victoria & Albert Museum exhibit Maharaja: The Splendors of India's Great Kings is at the Virginia Museum of Fine Art in Richmond through August 19th.
TWO YEARS AGO the town of Palisades Park, New Jersey erected a statue commemorating the more than 200,000 Korean comfort women - believed to have been forced into sexual slavery by Imperial Japanese soldiers during WW-II and before - and the town has rejected requests to remove the statue by Japan's consul-general in New York (whose government disputes the historical claims).
THIS COMING SATURDAY will feature the finals of the Eurovision Song Contest from Azerbaijan - and while most of the contestants are twenty-somethings, Britain's entry is the 76 year-old Engelbert Humperdinck - who believes that his song "Love Will Set You Free" gives him as good a chance as any other contestant (have a listen at this link and judge for yourself).
THURSDAY's CHILD is Booker T the Cat - one of those in a University of Georgia study equipped with a 'cat-cam' to see what they do.
IN AN ESSAY about the University of Nebraska assistant football coach Ron Brown - who has testified against city ordinances prohibiting discrimination against gays - the sportswriter Charlie Pierce believes that Brown represents the waning days of such opinions in sport, not the future.
BUSINESS NOTES - the firm that manufactures Swiss Army knives says they have never laid-off a worker for financial reasons - for example, when sales went down by 30% in the wake of the post-9/11 aircraft ban on carrying Swiss Army knives, the Victorinox company simply leased workers to other companies (while continuing to pay their wages).
DIRECT DESCENDANTS? - Australian film star Geoffrey Rush and the English author Ian Fleming (the creator of the James Bond series).
POLITICAL NOTES - two years ago the voters of Calgary (the queen city of the province of Alberta) elected Canada's first Muslim mayor, Naheed Nenshi - the son of Tanzanian immigrants. And he tells a BBC reporter that trust and dialogue is what makes his city tick.
FRIDAY's CHILD is Girly the Cat - an eighteen year-old kitteh with kidney disease, a not-uncommon occurrence in older cats.
.... and finally, for a song of the week .................................. even though he had a relatively minor performance on this past weekend's Saturday Night Live .... Jeff Beck serves as a reminder (besides his own fabulous career) of another band he was a member of.
If they did nothing else, the 1960's English rock band The Yardbirds presented to the world three interstellar guitarists (Jeff Beck, Eric Clapton and Jimmy Page) - who are each in Rolling Stone's Top 100 Guitarists list (in the top fifteen, in fact).
But with such hits as Heart Full of Soul, For Your Love, Evil Hearted You, The Train Kept 'a Rollin ... and with their pioneering sound of the 1960's (evolving from straight blues into weaving feedback, Gregorian chant and minor chords into rock and roll) ........ and looking at the bands (Renaissance, Led Zeppelin, Cream, the Jeff Beck Group) that they helped to spawn .... well, they did much, much more.
They began as the Metropolis Blues Band in 1962, then renaming themselves after the jazz saxophonist Charlie Parker's nickname. Featuring Keith Relf on vocals, Chris Dreja on rhythm guitar, Paul Samwell-Smith on bass and Jim McCarty on drums (a few art students among them) - yet the lead guitarist's role was a revolving door for the band's duration in the 1960's. Anthony (Top) Topham (at only age 16) was pressured to leave by his family; Relf then brought in his classmate .... Eric Clapton.
The band achieved success; replacing the Rolling Stones as the house band of west London's Crawdaddy Club in September 1963 - which brought them to the attention of Giorgio Gomelsky its impresario. Stretching out their improvisations (which they called "rave-ups") helped make their live shows much in demand, showcasing their blues and R&B chops. Their first recordings in 1965, though, were poor sellers.
Their decision to record slightly more pop-oriented songs written by tunesmith Graham Gouldman - later of the band 10cc - helped them reach #2 in Britain (and #6 in the US) with "For Your Love". Gouldman also wrote subsequent chart hits "Heart Full of Soul" and "Evil Hearted You", helping to establish their sound.
But it also helped persuade Clapton to quit: partly since he was a blues purist in those days (which urge he satisfied by then joining John Mayall's Bluesbreakers) and also because he saw the others as unserious: when he saw Paul Samwell-Smith - whom he looked down - holding a Bob Dylan record, he just knew this Dylan guy couldn't be any good (Clapton only later recanting when he listened to "Blonde on Blonde").
Clapton recommended a local guitarist as his replacement, but a young Jimmy Page had a good life as a top session musician and declined. And so he recommended Tridents guitarist Jeff Beck instead. (Yes, that sentence bowls me over, too).
Beck's tenure lasted only eighteen months, but he helped expand the group into feedback, fuzz tones and psychedelia. By this time, the band had begun to write their own songs, and Beck helped drive their sound on Shapes of Things and "Over, Under, Sideways Down".
In June of 1966, bassist Paul Samwell-Smith left to become a producer (for Cat Stevens, Jethro Tull and Carly Simon) and - rather than recruit another bassist - group members once again offered a spot in the band to Jimmy Page. By that time, Page had become eager to become a touring musician and so rhythm guitarist Chris Dreja became the band's bassist to open a spot for Page. The Beck-Page axis didn't last long; recording notably Happenings Ten Years Ago before Beck's departure in late 1966 (due, in part, to nervous exhaustion). It proved to be the band's high-water mark.
Although still a talented band (especially their live shows) they began recording inferior material, promoted by their new pop-oriented manager Mickie Most - a single with two Continental written lightweight tunes called "Paff Bum" and "Questa Volta" is detested by Yardbirds devotees.
The end came in 1968, when Keith Relf and Jim McCarty wanted to move into a more acoustic/melodic direction, while Jimmy Page wanted to rock even harder. Their final concert came on July 7th, 1968.
The group members followed their dreams: Relf and McCarty formed the first line-up of the band Renaissance while Dreja stayed with Page briefly, as they formed a "New Yardbirds" band. But Dreja decided to leave performing to become a photographer, and the musicians that Page recruited evolved into ... Led Zeppelin. Dreja took the photo on Zeppelin's first album cover, and interestingly the "New Yardbirds" Led Zeppelin played its last concert on July 7th, 1980 - twelve years to the day of the final Yardbirds concert.
Fast forward twenty-four years after the end of the band in 1968: The Yardbirds were inducted into the Rock & Roll Hall of Fame in 1992 ....... and two original members (Jim McCarty and Chris Dreja) decided to re-start the band (with some new members).
They released an excellent album Birdland in 2003 (consisting of 1/2 re-workings of old favorites and 1/2 new material) with several guest spots (including Jeff Beck on "My Blind Life") - a thirty-five year hiatus that was worth waiting for. And in 2007 a live album recorded at B.B. King's in New York garnered some excellent reviews.
Chris Dreja (age 66; bottom of old photo and far-right in second photo) and Jim McCarty (age 68; far-right first photo and fourth-from-the-left in recent photo) perform with the band to this day, and they concluded a US/Canada tour just recently.
The final track on the 2003 album, An Original Man is my favorite - even more than the re-makes of the old classics - and is dedicated to a former band member who never got the chance to re-join the band: lead singer Keith Relf (top-center in first photo) who died in a tragic home accident in 1976 at the age of only 33.
And below you can listen to it.
A man I knew died too young

And in the end, his song unsung

He touched my life, he touched my soul

And given time: he'd reach his goal

An original man

that I knew

An original man

Right through!

Time gives and takes away

Everybody has their day

Yet even now, I see your face

You never left without a trace

An original man

that I knew

An original man

Right through!